About BFstats
Welcome to BFStats - your analytical instrument for finding and proving betting ideas!
An average bettor wants results, and fast!
The world of betting is full of information, opportunities and tools that take months or even years to learn, analyse and use to your advantage. Does an average online bettor have these years to spare? Absolutely not! You need results, and now!
You can choose a longer learning curve, watching YouTube videos, listening to online trading courses, reading tipsters' advice and doing this or that, with mixed outcome.
Or you can look at the figures we have prepared for you and draw your conclusions right now!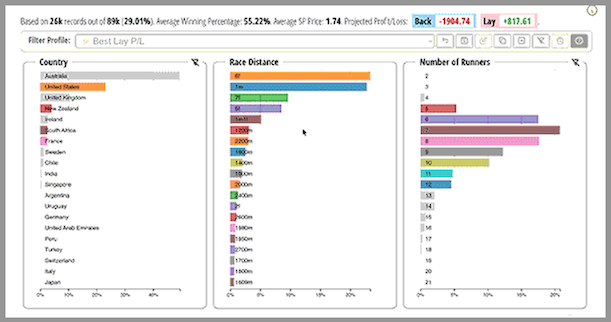 Ready-to-use figures based on real historical data
Have a look at free demo reports:
We offer you ready ideas to try and test using your favourite betting tools, such as online exchanges, apps, bots, etc.
We support these ideas with real historical data from millions of markets with real prices recorded on BetFair.
Because we have purchased the BetFair Historical Data, we possess the files with the actual second-to-second prices for horse racing, Greyhound, tennis and football markets that we will share with you in the form of easy to read graphs, diagrams and statistics.
Some of BFStats reports have been successfully validated by our Triggers in Action. It is an ongoing initiative for testing betting ideas, such as Backing on the selection with the greatest increase in matched volume% which has demonstrated a profit of £2,436.55 from £1,000 in 24 days.
Loading, please wait...
What you get
For £50 per report, you get one month's access to the interactive graphs and data in that report. Statistical data for each report is updated minimum once per week.
You also get to download the list of historical market IDs used in the report. You can then import that list into MarketFeeder Pro Time Machine and backtest your betting strategies in real time or 15 times faster.
Each report also includes a set of triggers you can use to automate betting strategies suggested in the report.