Horse Form: Dutching on horses with a specific number in their Silks form
The report covers horses races where the Silks data is available and the Form is non-empty for at least one of the horses.
What are the chances to win for a horse with a specific number at the end of its Form? The last figure of the Form sequence reflects the place the horse took in the latest race where it participated.
The report has data on horses whose form ends with any digit between 0 and 3.
Zero indicates that the horse took a place greater than 9.
Here are examples of horse forms: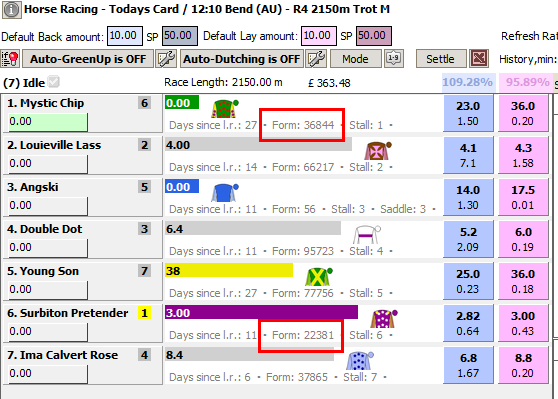 Here Mystic Chip came fourth in the last race where it ran, while Surbiton Pretender won its latest race.
The report does not include horses which fell or skipped a race or a season. That is, the report does not account for horses that have anything else other than digits from 0 to 3 as the last number of their form.
Country
Click on country bars to include/eliminate races from that country.
Race distance (top 20)
Click on distance bars to include/eliminate races with that distance. The triggers attached to this report allow you to configure up to 5 race distances (and you can add more on your own).
Number of runners
Click on bars to include/eliminate races with the corresponding number of non-withdrawn runners.
Last form identifiers
Select one or more digits that can be at the end of the form identifier. The report will apply bets to horses that have these digits.
Projected P/L
The Projected P/L shows how much you would win or lose if you backed or laid with a liability of £1 on the selected horses in every race where they participated (within the selected ranges of distance and country). If only one horse meets your criteria in any given race, a single bet will be placed with the liability of £1. If two or more horses qualify, Dutching bets will be placed. The exchange commission used in the report is 5%. Only markets with at least £1,000 in matched volume are included. You can see results for both backing and laying.
The exchange commission applied to profit is 5%.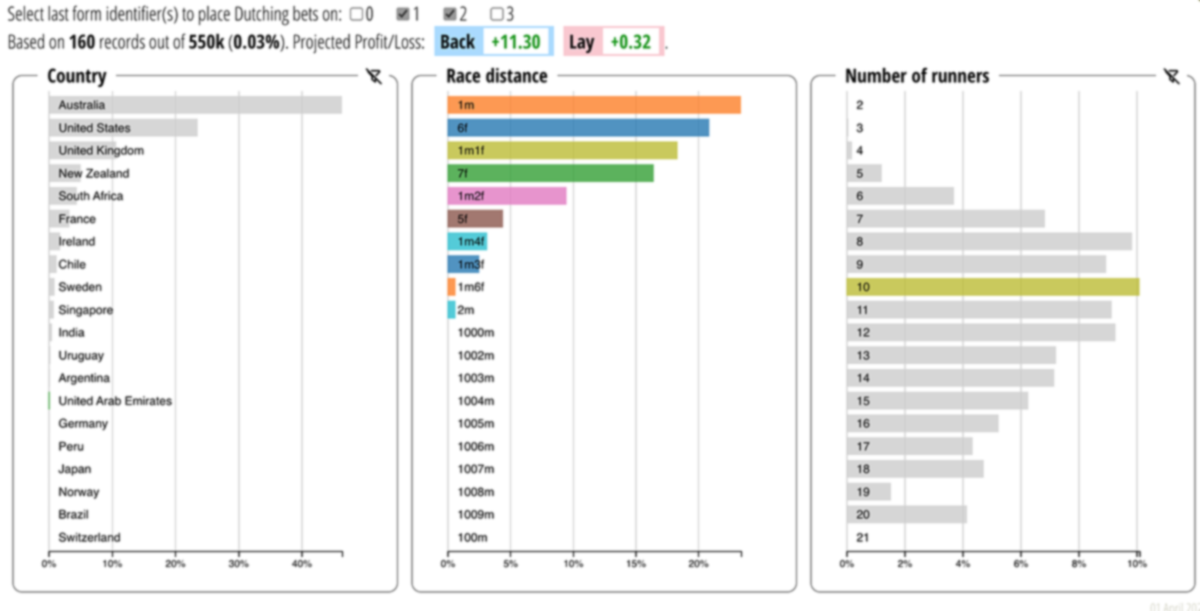 Purchase a month's access to this report for 50.00 GBP