Dutching on horses of chosen favourite ranks
Assess the profitability of backing on several horses in racing markets grouped by country and distance.
Choose up to 6 first favourites (based on their last traded price at the scheduled race start) and see the number of races in which at least one of them would have won, based on historical data.
Note: in some countries horse racing markets do not go In-Play. If you want to build a trigger for back Dutching horses in these markets, you will have to choose selections based on their prices close to the start of the race.
Country
Click on country bars to include/eliminate races from that country.
Race distance (top 20)
Click on distance bars to include/eliminate races with that distance. Only the top 20 distances with the largest number of markets are shown. The triggers attached to this report allow you to configure up to 5 race distances (and you can add more on your own).
Ranks to back on
Tick all or some of the ranks you want to back on. You can view the report data for up to 6 first favourites.
We did not include races with less than 6 runners in this report.
Also keep in mind that in some races, it would be impossible to place Dutching bets on multiple selections, because the book% would be > 100%. This is especially true for races with few runners, i.e. 6 or 7. If you choose to back on the first 6 favourites in such a race, the book% will most probably be higher than 100%, which means the Dutching will result to a guaranteed loss. The report does not include such bets, i.e. such markets are just skipped.
Projected Profit/Loss
The amount you would win or lose if you placed back Dutching bets at the scheduled start time on the selected horses with a liability of £1 per race and exchange commission size of 5%. We only take into account races with at least £1,000 matched at the start of the race. The bet price was set at the selection's last traded price at the time of betting.
Winning Probability
The chance of you getting profit by Dutching the selected favourites in the selected markets. The probability is calculated as follows:
win_count/total_qualifying
where
win_count - the number of markets where at least one of the selected favourites won
total_qualifying - the total number of qualifying markets.
For example, if you back on the first three favourites in 10 races and you win in 4 of them, the winning probability will be 40%.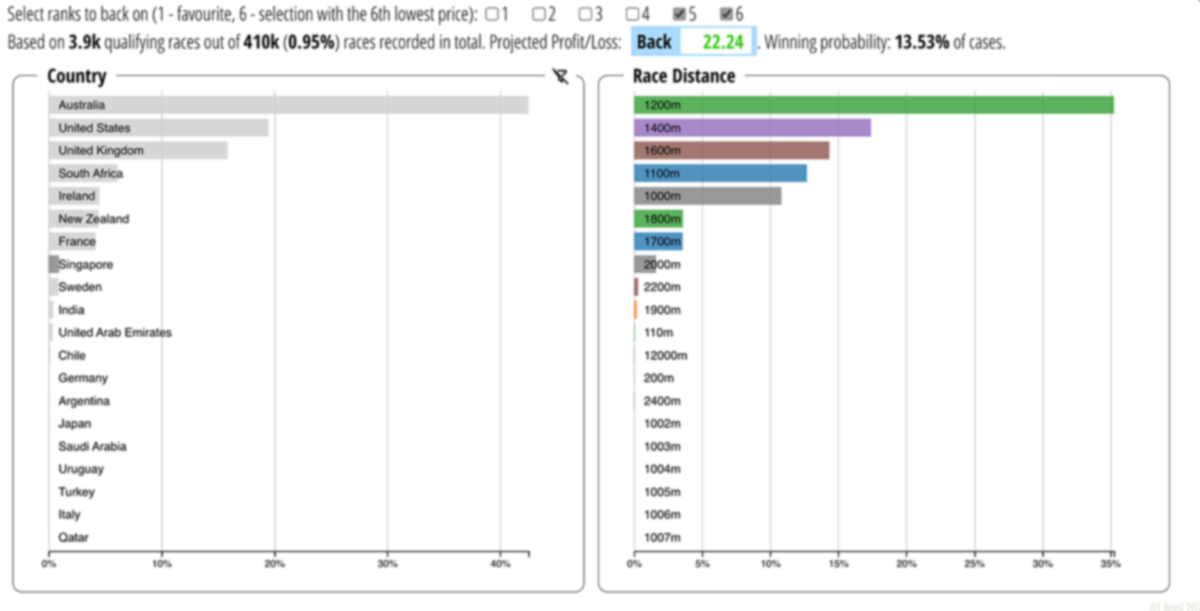 Purchase a month's access to this report for 50.00 GBP