Betting in races with a reserve runner
What is the probability of a (Res) runner to win in a race? What are the favourite's chances to win in a race with a (Res) dog?
The report provides data on the winning percentage of reserve runners in Greyhound races? A reserve runner is a replacement of a withdrawn dog which has the "(Res)" label in its name.
The purpose of this research is to find out how the presence of a reserve runner affects the results of the race.
All the races covered by this report had a (Res) runner among the participants.
Winning percentage of the (Res) runner
The percentage of times the (Res) runner has won the race.
Favourite's winning perc. in a race with a Res runner
The winning percentage of the favourite (the lowest priced selection) in a race with a (Res) runner. For example, if the winning percentage is 50%, it means the favourite dog won half of the races where a reserve runner participated.
Race distance
Click on bars to include markets with the selected race distances and exclude all others.
(Res) price
The minimum, maximum, and average prices of a (Res) runner in the selected range. The graph shows last traded prices. Position your cursor on the vertical bar with the desired minimum price and drag it to the right until you reach the desired maximum price of a Res runner. The report will be recalculated based on that price range.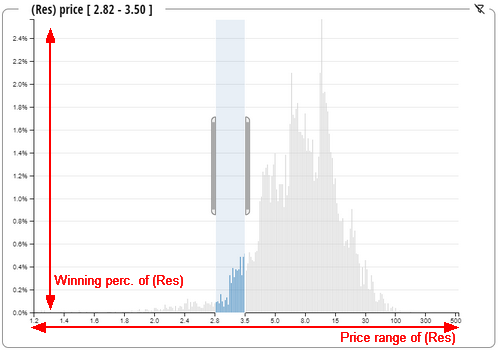 Projected Profit/Loss
The amount you would win or lose if you backed or laid the (Res) runner at the current price in each race where it participates, with the filters you selected. The P/L is calculated based on a fixed £1 bet, with a 5% exchange commission. The bet is placed at 10 seconds before the starting time of the race. If there are two or more (Res) runners in a race, the algorithm will pick the one with the highest last traded price.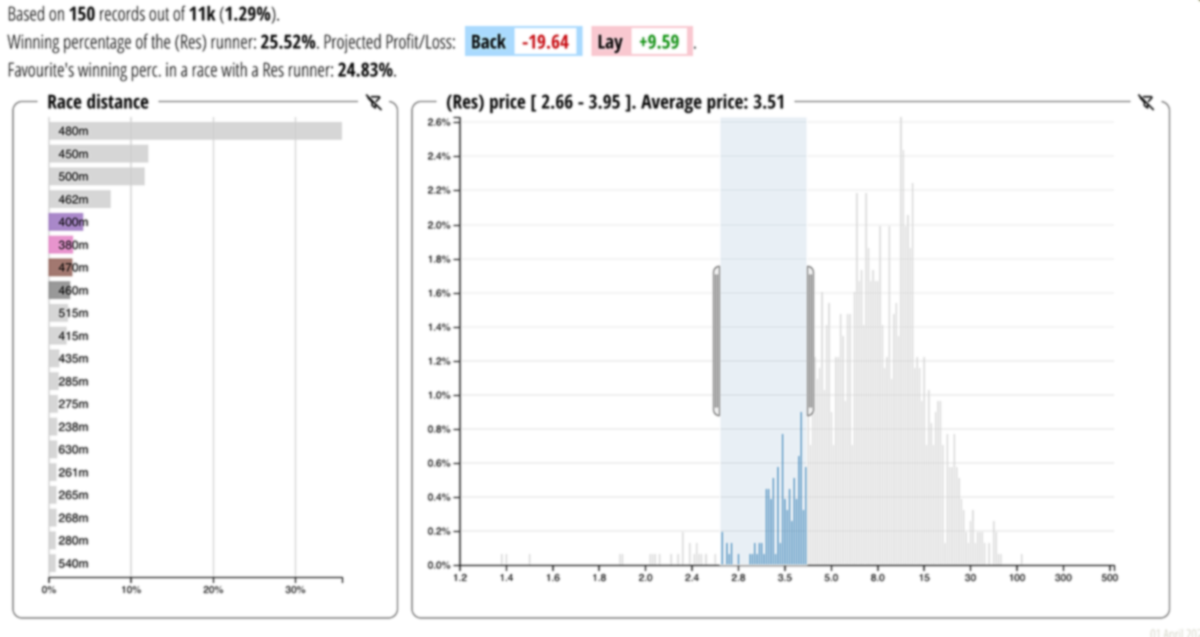 Purchase a month's access to this report for 50.00 GBP